Alexei Navalny is a lawyer and anti-corruption blogger who used social media to organize large demonstrations against Putin's government in 2011. The Russian government brought embezzlement charges against Navalny earlier this year. Navalny's supporters say the charges against him were created in an effort to derail his political career. Until his conviction, on July 18, 2013 Navalny was campaigning to become Mayor of Moscow.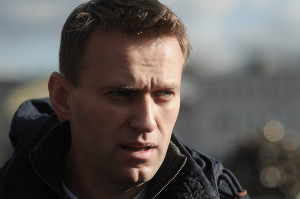 The Russian Judge, Bregai Blinoff, spent nearly 3 hours reading a statement yesterday which summarized aspects of the trial. He pronounced the verdict guilty in the beginning of the statement. He saved the sentence until near the end which was 5 years in a minimum security penal colony and a fine of $15,000. The other accused in the case got 4 years and a fine as well. Methinks the judge doth protest too much.
[kc_heading_pac_16_headline_11 size="25″ color="#373737″ ]The Fair Trial?[/kc_heading_pac_16_headline_11]
During the trial Judge Blinoff did not allow the defense to cross examine the one prosecution witness which turned out to be someone who Navalny had previously brought corruption charges against. Additionally, he  denied requests to call 13 witnesses in Navalny's defense who worked at the company at which Navalny was accused of embezzlement
"I think there is very little doubt, the charges are fabricated and the case is flimsy to say the least." stated Maria Littman, a political analyst at the Carnegie Moscow Center who says Navalny became a Kremlin target because he was the strongest political challenge to President Putin's power structure.
The judge found Navalny and his associate guilty of embezzling over a half million dollars from a State owned timber company in 2009. A previous version of the same case was dismissed last year by prosecutors who said they found no evidence of wrong doing.
The investigation was reopened when Navalny published embarrassing revelations about the foreign assets of the head of the state investigation committee.
Navalny, a popular blogger, lawyer and officially registered opposition candidate in the Moscow mayoral election set for Sept. 8, never pleaded guilty in the case. He declared the charges bogus and the trial politically motivated. It certainly seems as though he may have had a point based on the way the trial was conducted if you can call something that resembles the Nazi trials under Hitler a real trial that is.
[kc_heading_pac_16_headline_11 size="25″ color="#373737″ ]A Putin Critic[/kc_heading_pac_16_headline_11]
Not surprisingly, in the last few years, Navalny has been one of the most outspoken critics of Vladimir Putin. He publicly called the Russian leader a thief, and labeled his party, United Russia, a group of swindlers and thieves. The criticism contributed to the ruling party's humiliating 50% showing in parliamentary elections in December. Many experts considered Navalny's conviction a result of Putin's vengeance.
There have been other incidents that point to former KGB/FSB higher up Putin using Stalin-like techniques to silence his opposition such as the case of Mikhail Khodorkovsky, the multi-billionaire who opposed Putin and was jailed in 2003 under specious charges conducted by another kangeroo court.
[title color="color-default" align="scmgccenter" font="arial" style="normal" size="scmgc-1em"]Nice Capsule Summary of Nearly 100 Years of Communist Government[/title]
I think Navalny provided a nice encapsulation of what rule under Communism actually produces. In an impassioned closing argument at his trial, he stated:
and my colleagues will do everything possible to destroy this feudal regime being established in Russia to destroy the system of power under which 83% of national wealth belongs to a half percent of the population." Corey Flintoff – NPR News –Moscow

In the wake of the verdict and sentencing, massive protests shook a number of major cities in Russia on the day after the trial. In Moscow and St. Petersburg, thousands of people demanding Navalny's release took to the streets and tried to block traffic. Police intervened and arrested dozens. Navalny was released 24 hours after the sentencing apparently to appease the protestors.
For more on the deception that Russia has transformed see the following books by former KGB higher up Anatoliy Golitsyn:
and also this absurdly priced version:
I think I paid about $10 for my copy of The Perestroika Deception. The fact that it is priced this high tells me that there could very well be people who do not want this information to surface. It is detailed and reveals strategies that you will never get from the mainstream media. It is not even written that well to be honest but the information contained therein is what counts as you would see upon reading it. A valuable source if one is willing to pay the price nevertheless.