While most Americans struggle to make ends meet, some are doing just fine. Of course, having the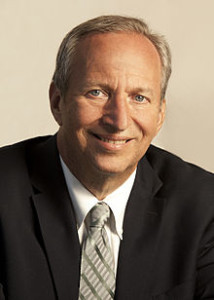 right connections to the money powers that be doesn't hurt either.
Larry Summers is on the short list for the position expected to open up in January for the Federal Reserve. He's already had some help from his financial cronies that appears to have made him a wealthy man.
According to an article which appeared on Bloomberg.com, when Summers was nominated to be Treasury Secretary in Bill Clinton's administration, "he listed assets of about $900,000 and debts, including a mortgage, of $500,000." That would put him in a comfortable position, but probably not among the top 1% these days.
Not to worry however. By the time he returned to serve in the Obama administration, Bloomberg notes, "he reported a net worth between $17million and $39 million." Not bad huh? Guess his Wall Street ties have been helpful to his economic development.
As Dean Baker, an economist with the Center for Economic and Policy Research in Washington, a politically progressive nonpartisan organization indicates:
"Summers is going to have a very sympathetic approach to Wall Street. These are people he has a background with. I think it's certainly a negative."

Some pundits say that a background working in financial institutions is exactly the type of training a Fed Chairman should have. However, what goes unmentioned is that the Fed is a privately held international financier cartel that serves its own interests rather than those of the people it is reported to serve.
Even some of the Democrat Senators criticized Summers role for supporting deregulation during his time in Clinton's cabinet. According to Bloomberg Obama "defended Summers in response to a question from a lawmaker during a closed meeting, saying the criticism has been unfair. " Typical of the Change We Need President it seems. The man who promise to attack Washington corruption once in office.
Summers Obviously Ain't Doing It for the Money
Whether Summers gets the nomination or not he should be just fine. He can always just give public talks. After all, he collected more than $2.7 million in speaking fees from financial firms like CFR Corporate member Citigroup and Goldman Sachs. Of course, both of these firms received significant sums from the taxpayers in the economic bailout. Guess it was only fair that Larry derived some benefits from that as well. Summers is a long term member of the CFR as well. That may have helped him get the gigs as well. Birds of a feather and all.
Meanwhile, Summers cited Citigroup in a 2011 speech as an "example of the U.S. making a profit on the bailout, in footnotes to a speech titled "Prophecies of American decline will prove to be self-denying once again."
Richard W. Painter, served as an ethics counsel in the White House during the George W. Bush presidency. He also vetted Bernanke when he was first up for the job in 2006. Painter said in a telephone interview with Bloomberg that Summers would, if confirmed, have to cut corporate ties, divest any stock in financial firms, and recuse himself for a period of time from making decisions on the firms that paid him.
 "I don't see any serious problem here," Painter said. "We've considered people for that job and quite a few governors of the Fed who've come directly out of financial institutions."
Again as is always the case, the fact that Summers, like almost all of the Chairman before him is a well established member of the Rockefeller as Honorary Chairman, new world order pushing Council on Foreign Relations (CFR). All of the too big to fail banks are members too. Tends to maintain status quo you know.
In light of the profits Summers has reaped from his financial cronies, statements like those made by Summers and Painter seem, shall we say, a bit disingenuous.
Like Yellen, if Summers is appointed our march towards the New World Order as envisioned and stated by many other members of the CFR and Trilateral Commision will continue along its merry path leaving our nations freedoms and economic well being in its wake.