When Donald Trump called Baltimore a dump, he was immediately attacked by the Democrats and the leftstream media as a racist who claimed that his tweet using the term "infested" was only used when he refers to "black and brown people". (Whoooo boy, these are some mentally twisted people!) Quite obviously, in its original context, not the case.
At the time, the Mayor of Baltimore was Catherine Pugh. Obviously, she wasn't doing so great a job in improving her city since coverage after Trump's tweet led to investigations that showed significant parts of Baltimore were, in fact, a rat-infested mess.
Catherine Pugh – Not So Great Either
Pugh was elected Mayor of Baltimore in 2016 after gaining widespread praise for her attempts to quell the rioting crowds in West Baltimore over the death of Freddie Gray, telling residents, "We are a great city."
Apparently, not that great. Also, apparently, Pugh was not all that great a Mayor either after the attention President Trump brought to the city demonstrated how decayed it has become over the years. A factor which likely contributed as much to the riots as Freddie Gray's death.
Now, as it turns out, she won't get a chance to prove her skills as Mayor which she obviously didn't prove as a council member from 1999 to 2007 it seems since the city continued it's decline during those years as well.
Pugh Sentenced to Three Years in Jail
On February 27, 2020, Pugh was sentenced to 3 years in prison for her part in a children's book scheme. She was also ordered to pay approximately $670,000 which includes her Ashburton, Md. home and $17,800 in campaign cash. Pugh apparently used the cash (approximately $800,000 earned) to both purchase and renovate her home, as well as, help fund her re-election campaign.
How Pugh Worked Her Scheme
The allegations of "self-dealing" were in connection with sales of thousands of copies of her Healthy Holly children's books during her Mayoralty. Many of the sales went to entities which she either had influence over or sought to do business with the city.
Healthy Holly was about an African American girl who promotes exercise and nutritious eating habits. I don't believe there was any mention of bilking customers out of tens of thousands in the book to the tune of about $800,000 as it turns out, just good nutrition and exercise.
As noted by NPR, after the 69-year-old Pugh, took an indefinite leave of absence in April 2019 and pled guilty in November:
But the problem was thousands of books that nonprofits and foundations ordered to distribute in schools and daycares to promote healthy choices and combat obesity were never delivered to the city's children…

Former Baltimore Mayor Pleads Guilty In Children's Book Scandal
Quid Pro Quo Deals
However, Pugh did have some help from the purchasers who sought something in return for the transactions.
For example, healthcare provider Kaiser Permanente revealed that it purchased $100,000 worth of the Healthy Holly books while it was up for a contract worth $48 million.
Kaiser was later awarded that contract.
NPR reported:
A Maryland businessman whose firm had Baltimore contracts also purchased "Healthy Holly" books. J.P. Grant told the Sun that his company paid $100,000 for books in 2016. Two years later, Pugh approved a contract with Grant's company to finance capital projects.

Catherine Pugh Resigns As Mayor Of Baltimore
It takes two to tango when it comes to political stealth it seems. Democrats, who jumped all over Trump about this during the Ukraine phone call impeachment hoax, know how to play that game quite well. Catherine was no amateur it seems, having spent 20 years in government by the time she resigned.
History Repeats Itself
As it turns out, Pugh is the second Baltimore Mayor to resign amid a corruption scandal in less than a decade.
In 2010, Mayor Sheila Dixon stepped down for stealing gift cards designated for the needy at Christmas to purchase clothing and electronics for herself.
At the time, Dixon claimed the case was politically motivated by a Republican-appointed prosecutor. Dixon was later convicted of embezzlement and forced to resign.
The amount was paltry compared to Pugh however and involved only $630.00. Nonetheless, even though it cost Dixon was her job. She got to keep her $83,000.00 a year pension. She was forced to donate $45,000.00 to charity, could not pay her attorney's fees with public money and ordered to complete 500 hours of community service.
After all that you would think that Pugh would have learned something. She is not alone among her fellow Democrats though. As Peter Schweizer pointed out in his book, Clinton Cash, the Clintons have embezzled hundreds of millions in quid pro quo deals siphoning the cash into The Clinton Foundation, even as they claim innocence, just as Dixon did.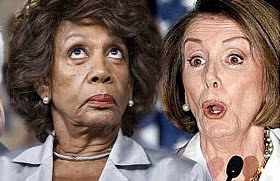 Democrats like Maxine Waters, Nancy Pelosi, Dianne Feinstein, Jerry Nadler, and many others, including some but not as many Republicans, also have corruption scandals in their backgrounds, often involving members of their families.
As the saying goes, when these Democrats point their hands at President Trump for corruption, four fingers are pointing back at them.
The real reason for their corruption scheme accusations really arises from their own personal experience, rather than Donald Trump's actions. A case of their own world views causing them to see what they look for and take part in all the time as Mayor Pugh demonstrated once again.
Now, she gets to spend 3 years in jail and deserves it. They wanted 5. They got 3. Pugh will probably end up out in less is my guess, another reflection of the corrupt swamp Donald Trump waded into after his election.
Like he has been saying in his speeches, he didn't know it was this bad when he said that he would drain the swamp. I think it will take far more than Donald Trump to drain it, but it certainly won't hurt to dry it up a bit that's for sure.