In the few seconds that it took you to read this sentence, our government in 2011 spent on average nearly $250,000. Five years ago, the budget pace was about $7.2 million a minute which works out to a pace of about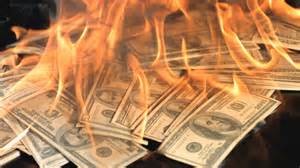 $435 million per hour. The velocity of our national debt has continued to grow even faster in the past 5 years, so these levels are like even greater today.
Since our government is based on the Constitution, one has to wonder then, "What kind of people put together a document that could lead to this kind of debt?" So let's take a look at the socioeconomic facts related to the persons who constructed the document which we base our government upon.
In becoming aware just who these framers of our Constitution were in terms of their general occupations and interests, we will have a better understanding of the nature of the document they produced and why they produced what they did.
Framers Not Founders
First, I must point out that these men were not the "founders" of our nation. This is simply an embellishment designed to elevate this group to an undeserved level of prestige. It qualifies as propaganda designed to produce the illusion that until the Constitution our nation was in a shambles that the Constitution corrected.
The fact is, the nation already existed before these conspirators (planners in secret) rewrote the agreement to reconstruct the form of government. They did not create a new nation. They "framed" a new government.
Illegally, if you want to accurate about it, but nevertheless it was the reframing of an existing governmental agreement, not the founding of a new nation. The actual "founders" were the people who sacrificed their time, ideas, and sometimes their lives to forge a nation out of what formerly a sparsely occupied wilderness.
What Did They Create?
The re-framed government took on the intended shape of a Constitutional Republic. (Article 4, Section 4- "The United States shall guarantee to every State in this Union a Republican Form of Government,) The term Republic comes from the Roman Latin words, res and publica together meaning "the people's thing".
This would be in line with the first words of the Preamble, "We the People…" It also is another pointer to the secular nature of the newly created form of government.
So Just Who Were These Framers?
In order to discover who these framers were, it is best to first take a collective approach. By looking at this group in this manner, we can better achieve a general sense of the kind of document the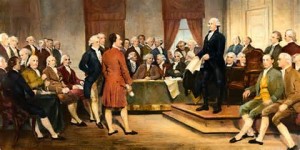 collective group would agreeably approve. Otherwise, we end up not seeing the forest for the trees, so to speak.
The Old Guard
First of all, something kept pretty much in the background about this group of invited delegates is the military emphasis in their backgrounds. Of course, in the presiding chair, we have the commander in chief of the Continental Army, George Washington. We will cover his background in more depth in another post.
Then, we have Generals Pinckney and Mifflin, major general and quartermaster general respectively of the Continental Army.
Next, James Wilson briefly the brigadier general of the Pennsylvania militia; James McClurg, surgeon general of Virginia troops; Pierce Butler, adjutant general of South Carolina troops; Gunning Bedford, lt. colonel and muster master general from Delaware; George Clymer, deputy commissary general of prisoners from Pa.; William Livingston, brigadier general of the New Jersey militia; John Dickinson, brigadier general of the Pa. militia, and Hugh Williamson, surgeon general of North Carolina forces.
Between the generals and colonels like Alexander Hamilton and others, to a large extent it was like a gathering of the old guard revolutionary army. That is, men used to wielding authority over the rank and file. Altogether, twenty seven or nearly half of the delegates (mostly men long known to Washington) had been officers in the revolutionary war.
Political Background
With few exceptions, the persons both invited and those who showed up in Philadelphia were continually active in politics, always at the highest levels. However, it was not a political dream team, so to speak.
Missing were the big names of the day like Jefferson, John and Sam Adams, John Jay, John Hancock, Thomas Paine, Benjamin Rush, Paul Revere, John Paul Jones, Patrick Henry (named but chose not to attend), Richard Henry Lee (who later eloquently opposed the Constitution during the ratification process) and a host of others.
With the exception of notables, namely Washington and Franklin, few of the men (even those who later achieved national status) were well known nationally when the convention met. Unlike today with our ever present media, these politicians were for the most part unknown to the general public and mainly only known locally.
However, forty four were either present or past members of congress. Forty six had held political offices in their home states including 7 who were present or former state governors and 5 who were high level state judges. The Constitution, in fact, was generated along defined lines by the government itself by a rather small number of self-selected elite.
Intellectual Capacities
While, there were 25 college graduates, using this as a measurement of a stellar intellectual capacity in the colonial period is distinctly misleading. The colleges of this period were rudimentary in nature and graduated students at much earlier ages than present, often as early as age 16.
Education consisted largely of a study of the classics, some history and some natural science. Harvard boasted a faculty consisting of professors of divinity, mathematics and Greek, four tutors and a steward.
Washington had a 5th grade education. Franklin and Hamilton were both pretty much self-taught. There were of course some good, if not superior, intellects in George Mason (a non-signer), John Dickinson, James Madison and James Wilson who acted as guiding forces.
There were only two professorships. William Houston of New Jersey (mathematics at the College of NJ) and George Wythe of the College of William and Mary. Both lasted very short times. Houston, got sick, left and died after a week of participation. Wythe left soon after the convention started, due to his wife's fatal illness and never returned.
For the most part, they were sensible and practical thinkers but certainly not a group of extraordinarily learned or exceptional intellectual giants.
Religion
This was not an assemblage of Christians. Most were Deists, Unitarians or simply rationalists. Only one stood out as Christian enthusiast, Richard Bassett, a devout Methodist from Delaware. Washington gave pro forma (for the sake of form) support to religion but was certainly not a devout Christian (more on that in another post).
Both Deists and Unitarians believe in a Creator but are far from Christians. They do not accept the divinity of Christ, nor the Trinitarian concept. Both emphasize reason as much if not more than faith. Both believe in a secular society in which government is kept separate from religious affairs.
Economic Status
Aside from being persistent office-holders and lawyers, a third general characteristic of the delegates was that most of them were men of substance. That is, through inheritance or marriage (thirteen had married heiresses) or gained by their own successful strategies, most of them would have been considered wealthy.
No fewer than 21 were rated to be rich or very rich. Washington and Robert Morris being the richest. Washington mainly through land holdings. Morris through commercial banking.
Another 13 were considered affluent to very affluent. The four from South Carolina had been very rich until the Brits confiscated their slaves and plantations during the war. They were however, well on their way back to financial health by the time of the convention.
All were considered highly solvent at the time of the convention. Thirty one were owners of personal property (merchants, attorneys, holders of continental securities and specie.) Twenty four including Washington had more wealth concentrated in land holdings than personal property.
This was certainly no meeting of the economically ordinary.
Other Characteristics
In an agrarian society largely of farmers, there were no actual farmers at the convention. (Broom and Few were claimed as "small farmers" but their backgrounds hardly substantiate that claim.) There were planters like Washington but he was primarily a military man who also ran a plantation when on the home front.
Directly or indirectly, the delegates consisted of lawyers (33 total bearing in mind that unlike today one could become a lawyer through self-study in a matter of weeks, as Hamilton did), bankers, merchants, ship-owners, slave-traders, slave owners, privateers, money-lenders, investors and speculators in land and securities. In general, not exactly representative of "We the People".
Anticipated Results
With this kind of background one would not be surprised in the production of a document with the nature of the Constitution that came out of these meetings.
Religion
With essentially no Christians in the group we can expect that a secular, perhaps even anti-Christian sentiment would prevail in the nature of the document. That is, in fact what surfaced which I will cover in a future post.
War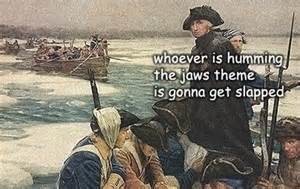 With the military backgrounds, one would also anticipate an authoritarian approach which we find.
The decision to go to war would be the responsibility of our representatives rather than the people who would fight the wars. It's also no surprise the President, or their leader, would be determined to become the Commander in Chief.
Not only was the power to declare war granted but also to raise money for both the army and the navy.
It follows then that "The Congress shall have Power to lay and collect Taxes, Duties, Imposts and Excises, to pay the Debts and provide for the common Defence and general Welfare of the United States."
That is, they (Congress) could declare war but the people who would ultimately fight it would also have to pay for it through taxation. Is it any surprise then that we are continually embroiled in war these days and generating debt at the velocity and level noted in the beginning of this post?
The Courts and Law
With all those lawyers, lifelong politicians and the military bearing, one would anticipate that the Court would be deemed a "supreme" court and that the document would also be deemed the "supreme Law of the Land"
One could also anticipate that the court being supreme would become the ultimate determinant of the meaning of the Constitution, not "We the People." A characteristic that patriots like Patrick Henry feared and railed against. A characteristic that Hamilton promised in Federalist No. 78 would be the weakest branch of government because it had "no influence over either the sword or the purse".
Unfortunately, the anti-Federalists turned out to be correct as we more recently saw with the approval of Obamacare on an obscure reference to Congress' power of taxation by the Supreme Court. No influence on purse? I think not.
Economic Influence
Do the rich ever create legislation that limits them? I think we all know the answer to that one. As expected, this group of wealthy men had little to say about the limits of wealth. I have no complaint about that, not because I am wealthy, but rather because as Jefferson once stated "that government is best which governs least".
However, as time has passed, the rich are being given more and more advantages while the middle class is shrinking and the number of poor are growing. Corporate monopolies are growing as small businesses struggle mightily to stay afloat under the heavy regulatory and taxation climate of continually expanding government encroachment.
Perhaps the clandestine convention in Philadelphia could have used a few more commoners with a say in the proceedings?
Up Next
Hopefully, the above demographics can help you to have a better understanding of why the Constitution developed as it did and how it helped plant and germinate the seeds for what we have today. There are some other factors we still have not covered.
We can also understand how the secular, man dominant emphasis tends to support an authoritarian control over the people. Perhaps, the little acknowledged military background of the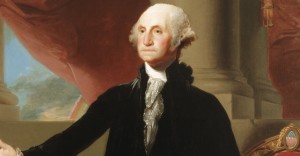 participants can help also explain why the seeds of war planted in the Constitution has become as much a part of our lives these days as driving a car.
Less transparent but clearly there is the anti-Christian nature of the document which explains the rise of non-Christian influences and the rejection of the Christian values that our nations real founders relied upon. I will probably address this issue further in a later post because it is more influential than acknowledged. It will also explain why the claim that the Constitution is a Christian inspired, practically sacred document is patently false and absurd.
Next, let's take a closer look at quite possibly the most revered character in American history and guiding force of the Constitutional convention- George Washington. Without his presence and influence, it can probably be safely said that the Constitution would never have been ratified.