Vindman, uh excuse me, Lt. Col. Alexander Vindman claims to be an impartial American patriot, but is that just part of his act? A guy who normally wears a suit for work shows up in his dress blues adorned with full ribbon regalia.
Is this just a part of his dog and pony show to add more credibility to his character? A case of methinks Brutus thou protest too much?
Vindman's Strange Reaction
During the testimony questioning, it surfaced that Vindman was offered the position of Defense Minister three times when he was in the Ukraine. When a question about this was posed by the Republican counsel during his questioning Vindman's body language indicated that a nerve had bee struck.
[youtube_advanced url="https://youtu.be/NaZcLgIfQss" controls="no" rel="no" theme="light"]
Raymond Arroyo, as the video shows on his Seen and Unseen segment, noted the body language after this question was posed as very odd.
Vindman adjusted his glasses in a way that indicates he was refocusing, indicating that something threw him off his game. He also wiped his nose in a way that would indicate he very nervous.
Why the sudden nervousness from a guy who seemed so controlled and calm? Had the counsel inadvertently struck a nerve?
Vindman – the Leaker and a Mole?
Looking at a guy like Vindman with a studied awareness of how deeply infiltrated our political system has become, I see the man a bit differently than most. Let me just say there are some potentials here for more than just a long-time, dedicated military missionary.
Personally, I think this guy could be a Communist mole. Of course, this may sound like tin foil hat stuff to some and granted it could be. Then again, maybe it isn't.
If you have taken the time to watch the video in my post The Development of the Deep State – part 1, there is some basis from past communist subversion tactics to form a basis for this speculation.
Past and Known History
Alexander Semyon Vindman (born Aleksandr Semyonovich Vindman) and his identical twin brother, Yevgeny, were born to a Jewish family in the Ukrainian Soviet Socialist Republic, Soviet Union in 1975.
After the death of their mother, the three-year-old twins and their older brother, Leonid, were brought to New York in December 1979 by their father, Semyon (Simon).
His identical twin brother, Yevgeny S. Vindman, is an Army lieutenant colonel and JAG Officer who is assigned as an attorney on the National Security Council staff handling ethics issues.
Vindman received a second lieutenant's commission in the Army's Infantry Branch in January 1999. He later received a master of arts degree from Harvard University in Russian, Eastern European and Central Asian studies. Vindman speaks fluent Russian and Ukrainian.
Beginning in 2008, Vindman became a Foreign Area Officer specializing in Eurasia. In this capacity, he served in the U.S. embassies in Kiev, Ukraine, and Moscow, Russia.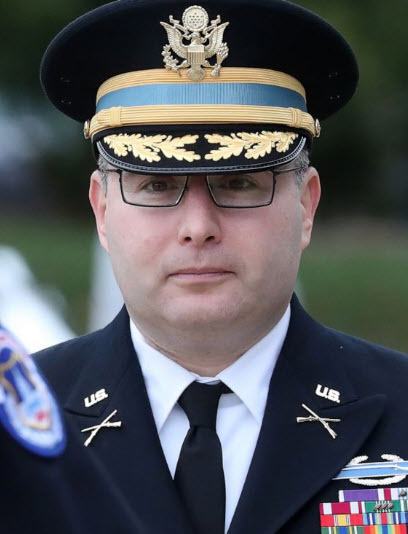 Returning to Washington, D.C. he was then a politico-military affairs officer focused on Russia for the Chairman of the Joint Chiefs of Staff. Vindman served on the Joint Staff at the Pentagon from September 2015 to July 2018.
In his role at the NSC, Vindman became part of the U.S. delegation at the inauguration of the Ukraine's newly elected President, Volodymyr Zelensky. The five-member delegation, in addition to Vindman, included
Rick Perry, United States Secretary of Energy
Kurt Volker, then U.S. Special Representative for Ukraine Negotiations
Gordon Sondland, United States Ambassador to the European Union
Joseph Pennington, then acting chargé d'affaires.
Obviously, Vindman has remained pretty close to his roots with his involvement in Russia and Ukraine through much of his career.
Vindman stated in his testimony that:
The privilege of serving my country is not only rooted in my military service, but also in my personal history. I sit here, as a Lieutenant Colonel in the United States Army, an immigrant. My family fled the Soviet Union when I was three and a half years old,
According to his biography on Wikipedia that is not an accurate statement.
Vindman's father left his family and came to the U.S. without the mother and the children. Vindman came later after his mother died.
This begs some questions in my mind:
Why would Vindman's father have left his wife and children alone in the Ukraine and come to the United States?
How did the family survive without the father's income?
What were the circumstances of the mother's death?
What kind of background did the mother have?
Did she work?
What was her profession?
It is a bit of an unusual setup. A portion of Vindman's background that he chose to gloss over in his opening testimony. How do we know his father was fleeing Communism and the Soviet Union? Was he actually coming here to contribute to its spread instead? There remain some unanswered questions in Vindman's background that pique my curiosity.
We didn't know how anti-American Ilhan Omar's family was when they arrived here as refugees. We sure do now though.
We don't know about a lot of other refugees who have settled here in addition to the illegal entrants. Our nation is not doing a good job of backgrounding these people – both refugees and certainly not illegal immigrants.
Hence, it is quite possible that Vindman's father may be a sympathizer still and his son a mole. Hard to actually know these days. But his depiction of his background is not accurate on how he came to the United States.
The guy speaks Ukrainian and Russian fluently. Yeah, I know, so did his father. I'm not saying that makes him a Communist. Just a red flag (no pun intended).
Two of my grandchildren are Swedish from their mother. They don't speak Swedish.
The fact is, not many 3-year-old children choose to retain their parent's native language. Americans don't encourage speaking other languages which is why a lot of people speak English as a second language. On the other hand, we don't learn other languages in return.
It may mean nothing but it seems a bit odd that this guy did and it happens to be Ukrainian and Russian.
A Military Man?
Vindman poses as a dedicated military man with his dress blues and ribbons. Yet, he went around his chain of command (Tim Morrison) straight to the lawyers and the NSC when he was allegedly "concerned about the call".
He certainly was not very respectful of military regulation for a guy who poses as a dedicated soldier when he chose to ignore the standard military protocol.
Vindman was also cited by his supervisors and others as a guy who was known to talk our nation down among his peers and someone to watch out for, according to reports I ran across in the media. Strange to hear about a guy who appeared so patriotic in his appearance and self-description.
Connection to the "Whistleblower"
He named Ambassador Kent as one of the people he spoke to when he shared his concerns about the call.
He was being pressed by Congressman Jordan for the name of the other person he spoke to. However, Shifty Schiff abruptly stepped in and interrupted the questioning.
Schiff immediately noted that he would not allow Vindman to give the name of the other person. Schiff gave the reason as being that he wanted to protect the identity of the whistleblower.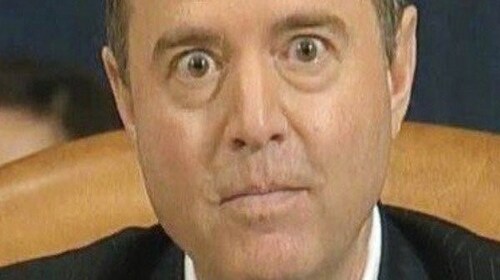 Congressman Nunes essentially said in so many words how could you (Schiff) know who he was revealing if you don't know who, as you previously stated, who the whistleblower was? Schiff didn't answer that question.
Vindman's lawyer stopped the questioning.
This little incident tells us that both Vindman and Schiff know who the whistleblower is.
This event also tells us that Vindman quite obviously fed the information to the whistleblower which would make Vindman at best- a leaker. It may also indicate he could possibly be a mole/spy as well.
Vindman's Profile Raises Questions
Based on what I know of the facts of past Communist infiltration tactics and strategies, this guy would fit the profile of a mole. Not saying he is but there are some questions,
Someone planted by Communists to integrate into the system, appear completely normal, advance in the ranks working his or her way to a position to influence the system from within.
Communist moles and sympathizers who were hardcore party members related these tactics in Congressional hearings after they had a change of heart, realized their mistake and returned to being a true patriot.

See the video Moles in High Places in my post on The Development of the Deep State – Part 1. It will give you more of a fact-based background on which to judge.
Now, I could be wrong about a guy like Vindman. Then again, I could be right.
Educate yourself a bit and make your own judgment. In this day and age, with the growing threat from the hardcore left, knowing more about how they work can only help.