As Journalist David Steinberg of the Powerline Blog discloses, based on public records and social media evidence, Congresswoman Ihan Omar (in addition to marrying her brother) is not part of the Omar family. They permitted the Ilhan's Elmi Muhammed family to use their family's Omar surname for immigration purposes- to protect the guilty it turns out.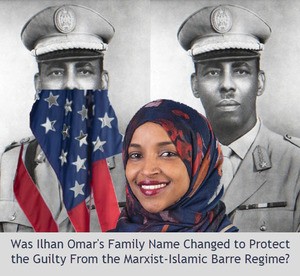 Steinberg, interviewed local Somali residents in Omar's district to gather his facts. He has been investigating Omar with several others for 3 years.
He recently disclosed the real family background to Ilhan Omar with pictures of actual documents and social media posts tying the claim together with facts:
In 1995, Ilhan entered the United States as a fraudulent member of the "Omar" family.

That is not her family. The Omar family is a second, unrelated family which was being granted asylum by the United States. The Omars allowed Ilhan, her genetic sister Sahra, and her genetic father Nur Said to use false names to apply for asylum as members of the Omar family.

Ilhan's genetic family split up at this time. The above three received asylum in the United States, while Ilhan's three other siblings — using their real names — managed to get asylum in the United Kingdom.
Ilhan's Father's Background
The question begged from this series of event's is:

– Why did the family have a need to change their names from Elmi Mohammed to Omar?
It turns out that Omar's father was a professional propagandist for the Communist- Islamist regime of Somalia's militarist leader Siad Barre until he was overthrown.
Ilhan has said her father was a teacher-trainor.
Translated into the actual context of the Barre regime, the job of Omar's father as a teacher trainer was:

To indoctrinate teachers in the government-run school systems to impose the Qur'anic-Marxist-Leninist-Maoist-Mussolini hybrid ideology on youth.
Military leader Siad Barre established the State he gained by a military coup in 1969. He established it as a Socialist state in 1976. From there, as in all Marxist Socialist states, it was pretty much downhill for the people of Somalia.
Siad's theoretical background of the Somali State as described in the UN's profile of the Siad's regime is summarized in the writings from the profile as follows:
The theoretical underpinning of the state ideology combined aspects of the Qur'an with the influences of Marx, Lenin, Mao, and Mussolini.

Siad Barre was pragmatic in its application.

'Socialism is not a religion,' he explained; 'It is a political principle' to organize government and manage production.

Somalia's alignment with communist states, coupled with its proclaimed adherence to scientific socialism, led to frequent accusations that the country had become a Soviet satellite.

For all the rhetoric extolling scientific socialism, however, genuine Marxist sympathies were not deep-rooted in Somalia. But the ideology was acknowledged – partly in view of the country's economic and military dependence on the Soviet Union…
I guess we can see where Ilhan get's her ideological political background. The apple doesn't fall far from the tree they say.
During Siad Barre's time in office, political oppression ratcheted up as he set up the Red Beret to arrest prominant figures and even former allies.
According to the UN report:

Faced with saboteurs by day and sniper fire by night, Siad Barre ordered remaining units of the badly demoralized Red Berets to massacre civilians," the UN profile report says.

"By 1989 torture and murder became the order of the day in Mogadishu.

On July 9, 1989, Somalia's Italian-born Roman Catholic bishop, Salvatore Colombo, was gunned down in his church in Mogadishu by an unknown assassin. The order to murder the bishop, an outspoken critic of the regime, was widely believed to have had come from the presidential palace."

It was estimated that between 60,000 to 100,000 Somali's were genocidally eliminated during 1988-1989 alone. Communist States have always operated that way to eliminate their opposition as Josef Stalin, Pol Pot and Mao Tse Tung among others have demonstrated over time. Communist dictators always end up trusting no one it seems.
Ilhan's father was an active part of that murderous regime which was building what is now called a Red-Green Axis as fleshed out in the report, The Red-Green Axis: Refugees, Immigration and the Agenda to Erase America. (65 pp report download here)
Red-Green meaning combination of the red of Communism with the green of Islam. Both tyrannically based, they make good bed fellows it seems.
The regime collapsed during a civil war in 1991.
Regime loyalists like Ilhan's Elmi Mohamed family fled to Kenya.
Elmi Mohammed's Family Changes Their Spots
In 1995, three of Nur Said Elmi Mohammed's family arrived in the U.S. under the borrowed surname Omar eventually landing in Minneapolis as refugees- thanks to a Clinton regime law which waived the need to disclose their Communist political associations opening the door for them.
Ilhan Abdullahi Omar's name, before applying for asylum, was Ilhan Nur Said Elmi.
Her father's name before applying for asylum was Nur Said Elmi Mohamed.
Her sister Sahra Noor's name before applying for asylum was Sahra Nur Said Elmi.
Three others, including Ilhan's brother, migrated to the UK under their real names of Leila Nur Said Elmi, Mohamed Nur Said Elmi, and Ahmed Nur Said Elmi.
Ilhan's brother Ahmed Nur Said Elmi eventually arrived here legally "married" to Ilhan Omar, his sister now under a different name.

My guess is that this was probably just a deception to get the brother into the U.S. under "legal" conditions.
After Ilhan arrived at age 12, it didn't take her long to begin to engage in political issues. She became active in student politics in high school. She also interpreted for her grandfather's presentations who was formerly a servent of the Siad Barre regime.
She moved into activist activities after high school ultimately leading her to Congress through the Justice Democrats selection process.
[accordion]
Chart Showing the Migration Path of Ilhan Omar to the U.S.
[/accordion]

It turns out that Congresswoman Omar's father was a professional propagandist for the murderous Siad Barre Communist-Islamist dictatorship.
Of course, the sins of the father cannot be attributed to the child – unless the child carries on the father's legacy.
Omar-Elmi's Illegal Marriage to Her Brother
The video below entitled Episode 1: Secrets of Ilhan Omar cover the facts including images of documents regarding her illegal marriage to her brother Ahmed Nur Said Elmi:
[youtube_advanced url="https://youtu.be/nnVZ6tXAJ_U" controls="no" rel="no" theme="light"]
Episode 2: Secrets of Ilhan Omar covers the Somali muscle that serves to threaten the Somali community in Minnesota into silence and covers more facts on the illegal marriage to her brother essentially used to skirt immigration laws.
Omar quietly petitioned for a divorce from her brother in 2017.
[youtube_advanced url="https://youtu.be/oR3gwVpfrRg" controls="no" rel="no" theme="light"]
The devil is in the details which is why it is very important to look at Ilhan Omar's formative years and the facts of her fraudulent marriage to her biological brother to commit immigration fraud.
It actually explains quite a bit about this smiling Somalian who tosses about racist and Islamaphobic labels like rice at a wedding it seems.
It may be a good cover for her own racist tendencies and anti-American ideologies but the truth will and is surfacing despite her claims of racism and Islamophobia.