Apparently, it must be noted, that in strict gun control China, attacks like this are becoming a regular event with some axe attacks and box cutter events thrown in for good measure.
Are the knives, axes and box cutters the cause? If so, how can we pre-empt these sort of incidents in our nation to protect our children and others? I have some suggestions at the end.
China school knife attack leaves 23 injured
By Shannon Van Sant- CBS News- December 14, 2012, 7:14 AM
A man wielding a knife attacked students Friday at a school in central China, leaving 22 children and one adult injured, according to state-run media reports.
The attack occurred at the gate of an elementary school in the village of Chengping, in Henan Province. Police arrested the attacker, who they identified as local resident Min Yingjun, 36.
Children as young as six were among those hospitalized after the attack, suffering injuries including slashes to the ears and head.
An official at Guangshan Traditional Chinese Medicine Hospital, the local facility, told CBS News at least two students had been transferred to the larger city of Wuhan, not far from Chengping, for treatment. The editor of the local newspaper which first reported the story said none of the children had injuries severe enough to threaten their lives.
The attack marks the latest in a series of violent assaults at elementary schools in China. In 2010, a total of 18 children were killed in four separate attacks. On March 23 of that year, Zheng Minsheng attacked children at an elementary school in Fujian Province, killing eight.
One month later, just a few hours after Zheng Minsheng was executed for his crime, another man, Chen Kanbing wounded 16 students and a teacher in a knife attack at another primary school in Fujian. The following month, on May 12, a man named Wu Huangming killed seven children and two adults with a meat cleaver at a kindergarten in Shaanxi Province. That attack was followed by an August 4 assault by Fang Jiantang, who killed three children and one teacher with a knife at a kindergarten in Shandong Province.
In 2011, a young girl and three adults were killed with an axe at an elementary school in Henan Province by a 30-year-old man named Wang Hongbin, and eight children were hurt in Shanghai after an employee at a child care center attacked them with a box cutter.
End- See link in title for full story
And then there was this event just a few months earlier. This time it was an axe that made him do it.
Ax-wielding man kills 3 kids, wounds 13 in China
By Ed Flanagan, NBC News Beijing, 21 Sep 2012, 1:58pm, EDT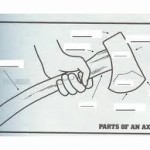 An ax-wielding man burst into a day care center in China and attacked the children inside, killing three and wounding another 13 before police subdued him.
The incident took place Friday in China's southern province of Guangxi.
Little else is known about the incident, which was first reported in China's official state news agency, Xinhua. The children, aged between 6 and 12, were reportedly sitting down for lunch at a day care center in a local Pingan county residential compound when the man entered and began swinging at them with an ax.
Wounded children — some severely injured — were rushed to local area hospitals. Police who arrived at the scene were able to disarm the man and arrest him.
Police were still investigating the motivation behind the attack.
Violent incidents against children are not rare in mainland China. In the past two years, a string of attacks at schools and day care centers involving lone attackers rattled the country, culminating with a series of three consecutive school attacks that took place over a three-day period in 2010.
In one of the incidents, Xu Yuyuan, 47, entered a Jiangsu province school in April 2010 and stabbed 29 children and three teachers. Xu told a court the next month that he wanted to "vent his rage against society," and that he was angry after a series of public humiliations and unsuccessful business ventures.
Determined to show that authorities were getting tough on crime against children, the court sentenced Xu to death after a half-day trial.
At the time, officials and social commentators argued that the incidents were isolated and committed by mentally unstable persons or those with extreme grievances against the government.
Many around the country, however, argued the attacks underscored both increasing societal pressures on Chinese people and an urgent need for China to overhaul how it approaches mental health evaluation and treatment.
Earlier this year, Chinese legislatures had begun discussion on much needed mental health law reforms. (Note: Just a suggestion, but they may want to consider relaxing the authoritarian grip they have over the lives of the Chinese people under Communism. Just a thought, that's all. Cause we all know that a stifling governmental rule is after all, for our own good and protection right?)
End
 So what are we waiting for? After all, what is going on in China proves that strict gun control doesn't stop the violence. Why not use the Pre-Crime system that Tom Cruise enforced in the movie Minority Report and nip this thing in the bud. Let's initiate strict controls on knives, box cutters and axes NOW!!! Without delay!
And heck, while we're at it, we'd better get control of those hammers and clubs too! After all, the FBI tells us that they kill more people than rifles and shot guns.
We'd better stop this stuff before it get's out of hand and make our street, homes and schools safe for our children.
Step One- A mandatory background check for every person who buys a hammer.
Step Two- Ditto for sharp knives and box cutters (AKA as airline tickets).
Step Three- Axes. Yeah, them too!
One last thought from Larry the Cable Guy
If guns kill people, I'm gonna blame all them spelling errors on my pencil.
Words of wisdom from good ole Larry?