Conspiracy: Theory or Fact?
Why This Blog?
Six major Corporations own about 90% of our media. If you go back about 30 years, about 50 Corporations had control. Still small, but allowed for more diversity at least.
For example, Time Warner owns TNT, TBS, and CNN. Would you expect them to be promoting widely differing views then? Hint: Don't!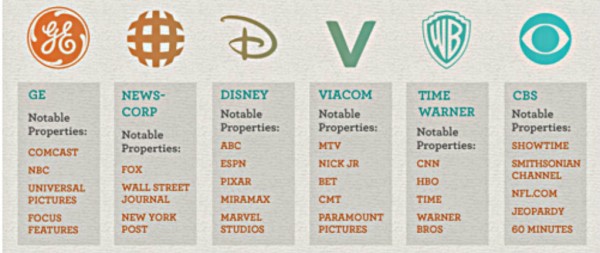 Even if they did, they would probably only do so to promote the illusion of choice rather than a real choice. Controlled opposition is how the Communists describe it. You promote opposition only different enough to appear different but the compromise leads towards the desired result anyway. Think Presidential elections for some examples of this strategy.
With only 6 today, I think it is fair to make a few assumptions:
Corporations act in their own interests
There is a Central Controlling Interest for Each Corporation
Money feeds and controls Corporations (think advertisers and lenders- international banks)
The Controlling Interest Determines What Best Feeds the Corporate Profits
The Information Produced is Carefully Culled to Produce Results that Benefit the Controlling Interests
The purpose of this blog is to provide the alternative point of view. Alternative to what you may ask? Well, how about an alternative to the view promoted by the controlling media interests- the accepted narrative.
The media monopoly is no accident. There are very powerful forces promoting their own truths that simply label any point of view that doesn't fit their accepted narrative as "conspiracy theory". The operative word there is "theory". In reality, conspiracy is not a "theory". It is a fact. Power corrupts and absolute power corrupts absolutely. – Lord Acton
Fact is, the wealthy and those with power have been attempting to direct us to fit into their needs for centuries. To paraphrase the discussion that took place in the restaurant in the Matrix Reloaded between Merovingian and Neo's group:

Choice is an illusion created between those with power and those without.
This "illusion" is created through the control of information aka the approved narrative .
The control of information is produced by a monopoly control over our information sources, in the media and in our public education as well. Quite frankly, if you do a little study outside the approved educational narrative, you will find that our children are not being educated but rather indoctrinated into the approved narrative. Some informed and awakened educators have referred to this phenomena as "the dumbing down of America".
My aim with this blog is to provide an alternative to monopolistic control of the narrative for those open enough to question.
I will always attempt to back my conclusions up with facts. Follow the links.
My desire is that you question authority and the facts presented as reality by the media monopoly and form your own opinions. Most people seem to prefer having others provide their opinions for them in place of using your head for something other than a hat rack as my father used to put it.
As I see it, why stand by and say nothing while powerful media interests such as those represented in the graphic above control their approved narrative for the benefit of themselves.
I prefer to to inject some truth, even if unpopular, into the course of the information flow rather than stand by and watch the freedoms we are told we have disappear into thin air.
If you feel the same please read on. Feel free to offer your own comments as well. Civil and informed debate is welcome. Repeated media pablum is not. Sorry, we have more than enough of that already. (See above graph for some hints.)